MAKE YOUR IMPACT OPERATIONAL, MEASURABLE AND PROFITABLE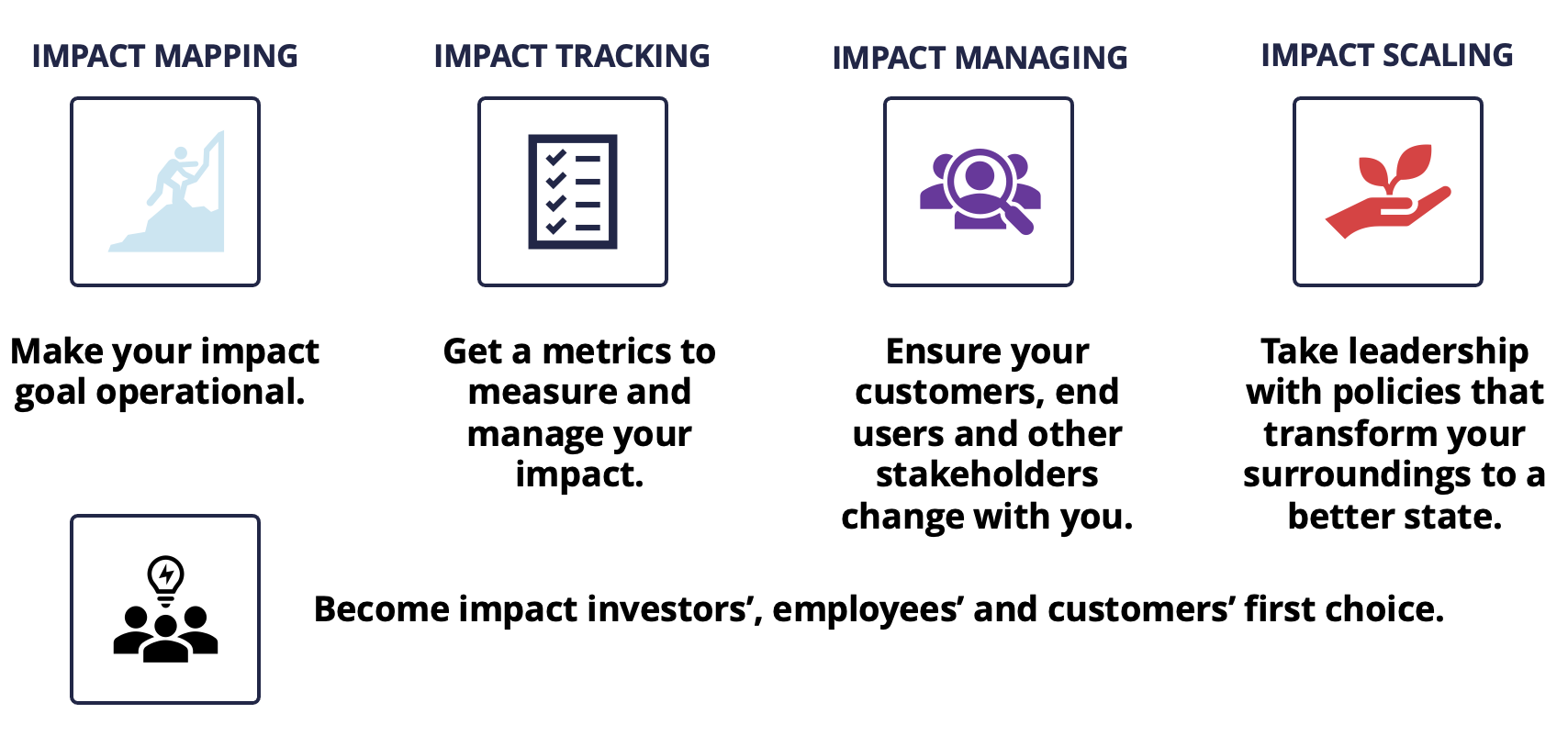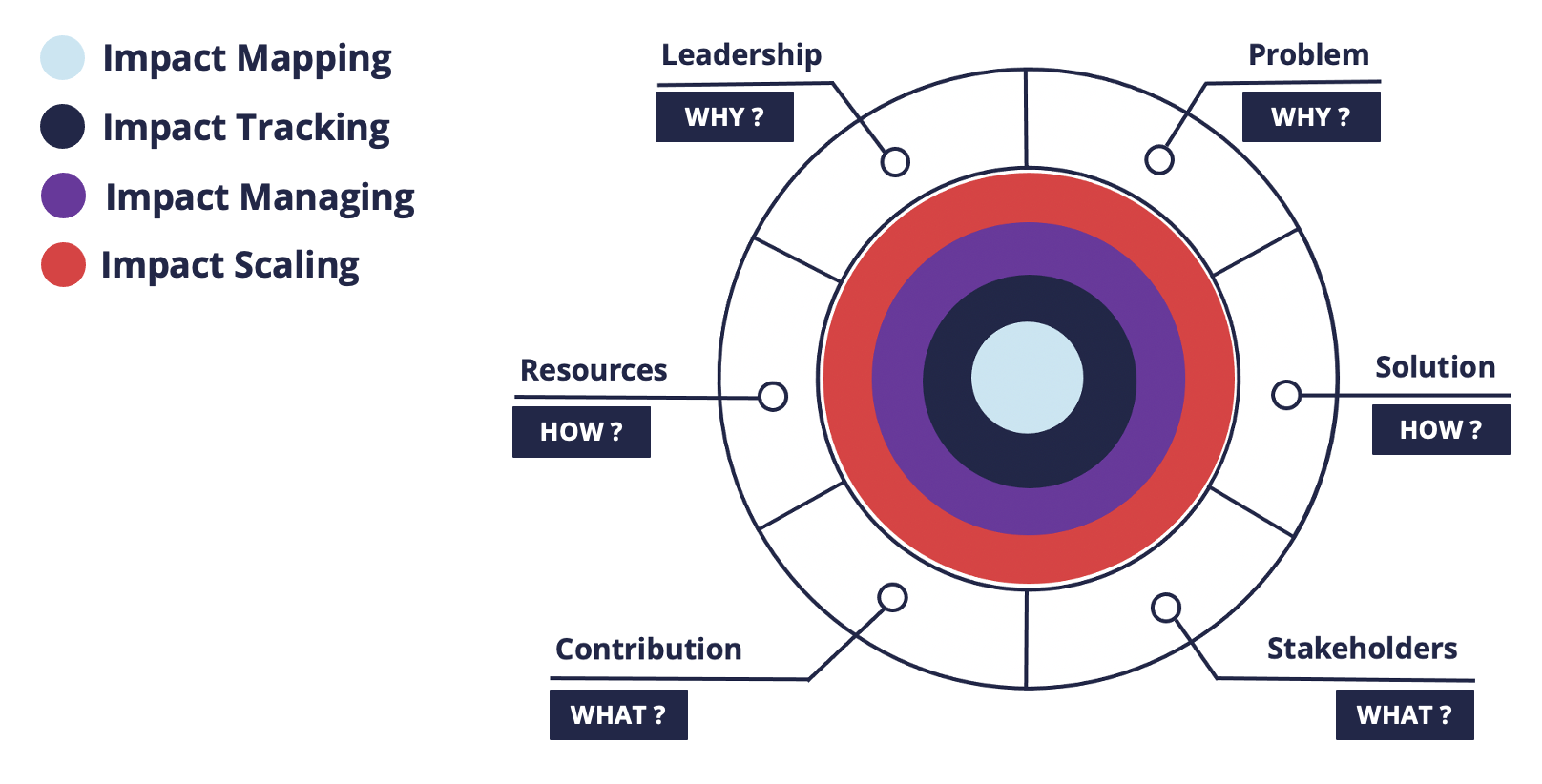 The contribution from business can not be decoupled from society, environment, nature, the climate and the ecosystems. Just focusing on the results in the marketplace has caused most of the problems in the world.
Impact startups intent to improve the world.
But what is that long-term impact you envision to have with your solution? And what are the barriers and root causes that stand in front of you?
How do you show evidence that the change you dream of happens? And how do you motivate your customers, 
end users, investors, employees and other stakeholders to change with you?
Impact Business Modeling System™ help you define your impact goal, build a theory of change, get the right indicators and a metrics in place.
Then you can directly see what the impact is when your solutions is implemented.
Impact Business Modeling System™ is a model and methodology to help startups with sustainable solutions ensure their intentions to do good becomes operational, measurable and profitable.
A LOGIC PROCESS AND TOOLBOX TO MODEL YOUR IMPACT
Describe the future you like to see – how a positive social and environmental outcome could define your business proposition in the market, for society and the biosphere.
Design and plan the right activities and the measurable outputs you need to deliver the expected outcomes and impact.
Implement your impact metrics in understanding your customers objectives to change and design the impact propositions that motivate all stakeholders to change with you.
Design the systemic innovation needed in your organization – with sustainable and ethical standards – to lead your company and build new impact categories in the marketplace.
2. ROOT CAUSES & OUTCOMES
6. ALIGNMENT & COMPLIANCE
Understand the causes and the barriers that stand in front of your impact goal and the good outcomes you wish to realize.
Find the indicators that show evidence of the positive outcome you like to achieve, decide what you need to measure, what data is needed and where the data sources are.
Align with the ethical standards and framework expected; UN 17 SDGs, EU Taxonomy and ESG.
Implement the transparency and equality needed in the supply chain, and take that ethical leadership needed to transform the market to a world we all cherish to live and act in.
COACH YOUR PORTFOLIO STARTUPS TO HAVE IMPACT AT THE CORE
Impact Business Modeling is a methodology, a set of tools and a curriculum used by acclaimed accelerators in the Nordics and the Baltics. We usually work in batches of 8-12 startups at a time.
Do you also want to help impact startups make their intentions of a better world operational,  measurable and profitable? Please contact us for a meeting.
"Impact Business Modelling really transformed our way to abstract the long-term impact we like to see in the world. The processes and tools have extended our value proposition and improved the business model – by quantifying the impact. It has allowed us to couple customer's financial benefits with a positive and measurable CO2 impact."
"We dream of a world, in which production and consumption of electronic devices decreases, because they last longer, spare parts are always up-cycled and then rest is 100% recycled. The methodology has helped us to measure our direct impact and reach our goals."

© 2020 – 2021. IMPACT BUSINESS MODELING SYSTEM™  All rights reserved by Nordic Impact Business, Denmark.